>>> Main ideas about the organization
Literature review about the subject of one lecture/workshop of the week.

On the 13th of February 2023, teachers send to each group a subject of presentation and some literature resources.
Students groups send their literature review on the 6th of March 2023.
Teachers give a feedback on the first day of the week (Monday 13th) during the working time session.

Some lectures/workshops will be online sessions. The lectures will be organized according to the level (level increasing during the week).
2 social activities during the week. One social event (aperitive) at the beginning of the week to discover each other and one more cultural activity (guided tour of the city).
1 industrial visit in the field of biotechnology (viticulture/viniculture).
The students' presentations will be organized during the week for practical reasons and to involve other students in the presentations of a group. The students will have time every morning to work on it in the presence of the teachers.
Only 3 workshops in the biotechnology lab will be organized. Each will be organized two times so all the students will participate to all workshops.
Lunch (hot meals) is included for the students and teachers.
>>> Overview of the week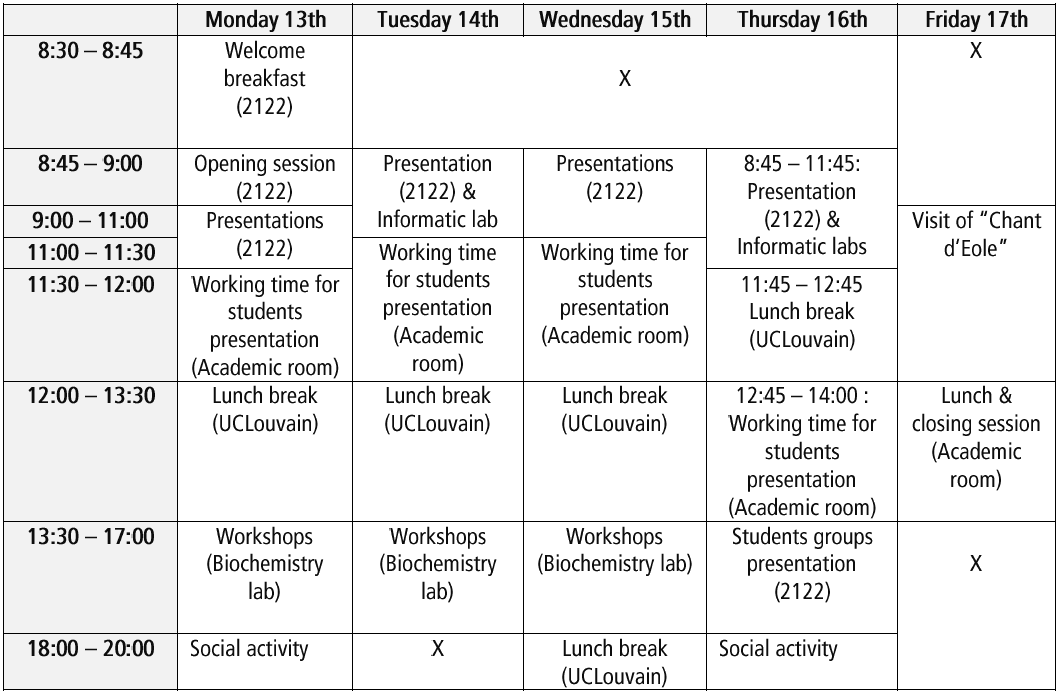 >>> Detailed program
Sunday 12th of March 2023
Arrival and welcome reception
Monday 13th of March 2023
8:30 – 8:45: Breakfast – Welcome
8:45 – 9:00: Opening session (2122)
9:00 – 10:15: Ms Kristel Sniegowski, KU Leuven (BE), on "Basic molecular techniques to identify wild yeast isolates and the search for POF genes" (2122)
10:15 – 11:30: Ms Julia Weiss, UPCT (ES), on "Reverse genetics, genome engineering and post-transcriptional gene silencing" (2122)
11:30 – 12:00: working time (academic room)
12:00 – 13:30: Lunch break (UCLouvain)
13:30 – 17:00:
Workshop I: Ms Julia Weiss, UPCT (ES), on "Identification of transgenic plant material by molecular techniques" (4008 – 4009)
Workshop II: Ms Kristel Sniegowski, KU Leuven (BE), on "Basic molecular techniques for the detection of POF genes in yeast isolates with PCR and gel electrophoresis" (4008 – 4009)
18:00 – 20:00: Social activity – City center "cutshop" – Belgian beers & food discover
Tuesday 14th of March 2023
8:45 – 9:45: Ms Vesna Jerkovic/Charlotte Saussez/Aurélie Semoulin, HELHa (BE), on "Bacterial transformation: theorical and practical aspects" (2122)
9:45 – 11:00: Ms Kristel Sniegowski, KU Leuven (BE), on "Evaluating the quality of a Sanger sequence, database search with sequences for identifying Fungi" (Informatic lab)
11:00 – 12:00: working time (academic room)
12:00 – 13:30: Lunch break (UCLouvain)
13:30 – 17:00:
Workshop I: Ms Kristel Sniegowski, KU Leuven (BE), on "Basic molecular techniques for the detection of POF genes in yeast isolates" (4008 – 4009)
Workshop II: Ms Charlotte Saussez/Béatrice Pirson, HELHa (BE) on "Bacterial transformation" (4008 – 4009)
Wednesday 15th of March 2023
8:45 – 10:15: Mr Marcos Egea Gutiérrez-Cortines, UPCT (ES), on "CRISPR/CAS vectors, principles and cloning strategies" (2122)
10:15 – 11:00: KU Leuven students (BE), on "How introducing biocatalytic reduction reactions into the pharmaceutical industry (bachelor thesis)" (2122)
11:00 – 12:00: working time (academic room)
12:00 – 13:30: Lunch break (UCLouvain)
13:30 – 17:00:
Workshop option I: Ms Charlotte Saussez/Béatrice Pirson, HELHa (BE) on "bacterial transformation" (4008 – 4009)
Workshop option II: Ms Julia Weiss, UPCT (ES), on "Identification of transgenic plant material by molecular techniques" (4008 – 4009)
Thursday 16th of March 2023
8:45 – 9:30: Mr Zeljko Simic, Hochschule Merseburg (DE), on "Directed evolution and rational design as powerful tools in protein engineering" (2122)
9:30 – 11:45: Mr Zeljko Simic, Hochschule Merseburg (DE), on
"Searching for the most efficient enzyme variant (known so far) for a particular biochemical transformation" (Informatic lab) OR Mr Marcos Egea Gutiérrez-Cortines, UPCT (ES), on "Usage of publicly available tools: sequence data bases and construct design for CRISP/Cas" (Informatic lab)
11:45 – 12:45: Lunch break (UCLouvain)
12:45 – 14:00: Working time (academic room)
14:00 – 17:30: Students groups presentations (2122)
18:00 – 20:00: Guided tour of Mons city center
Friday 17th of March 2023
9:00 – 12:00: Visit of « Chant d'Eole »
12:00 – 17:00: Lunch break & ending session (academic room)
Saturday 18th of March 2023